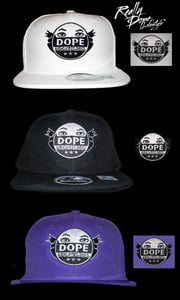 $

10.00 - On Sale
Check out The Newest Line From ReallyDopeLifestyle.com: AUVIDI™
Introducing Our Limited Edition Snapback Caps Embroidered With over 25,000 Stitches. Each Hat Showcases the Original " DOPE: Audio.Video.Disco Crest, which is SURE To Turn Heads. These Hats are being Produced in LIMITED QUANTITIES Due to the Exclusivity of this Groundbreaking Design. Snapback Caps are 100 % Adjustable and Available in Purple, Black & White. The Embroidered Design is Highly visible, in Black & White Embroidered Stitches. Let the Eyes Of Life Guide you with this Limited Edition ReallyDopelifestyle.com Original Piece.
*Each Hat Includes a Numbered Holographic Sticker Crest For Authenticity.
AUVIDI: AUDIO. VIDEO. DISCO (Latin Translation: I Hear, I See , I Learn)